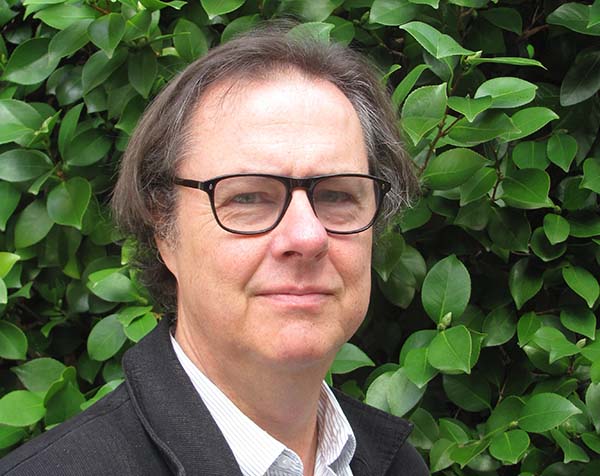 Born in 1952, John Taylor is an American writer, critic, and translator. After growing up in Des Moines, he studied mathematics at the University of Idaho (graduating in 1974), then literature and philosophy at the University of Hamburg (Germany), where he was a Rotary International Fellow. He also spent a year on the island of Samos, Greece, before settling in France in 1977. After living in Paris until 1987, he moved to Angers, in the lower Loire Valley.
Taylor is the author of thirteen collections of stories, short prose, and poetry:
—The Presence of Things Past, 1992
—Mysteries of the Body and the Mind, 1998
—The World As It Is, 1998
—Some Sort of Joy, 2000
—The Apocalypse Tapestries, 2004
—Now the Summer Came to Pass, 2012
—If Night is Falling, 2012
—The Dark Brightness, 2017
—Grassy Stairways, 2017
—Remembrance of Water & Twenty-Five Trees, 2018
—Fragments for the Next Form, 2019
—Transizioni, 2021
—To an Angel Depicted on a Reliquary, 2021
In 2018, he also published a "double book" with the Swiss poet Pierre Chappuis, A Notebook of Clouds & A Notebook of Ridges. A Notebook of Clouds was written by Chappuis and A Notebook of Ridges by Taylor.
Many of his books have been translated into French, five into Italian, and one into Serbian, another one into Greek, while selected poems, stories, and essays have appeared in a dozen other European languages.
As a polyglot literary critic, Taylor has long been a bridge between European literature and English-speaking countries. His essays have been gathered in his three-volume Paths to Contemporary French Literature (2004, 2007, 2011), Into the Heart of European Poetry (2008), and A Little Tour through European Poetry (2015). These two latter collections cover modern verse and prose poetry from nearly all the European countries.
Taylor also translates Modern Greek, Italian, and especially French literature. His most recent translations include books by Philippe Jaccottet, Jacques Dupin, Pierre-Albert Jourdan, Louis Calaferte, José-Flore Tappy, Pierre Chappuis, Catherine Colomb, Pierre Voélin, and Georges Perros (for whose Papiers collés he received a translation grant from the National Endowment for the Arts in 2011, an award resulting in the publication of Paper Collage four years later). In 2013, he won the Raiziss-de Palchi Translation Fellowship from the Academy of American Poets for his project to translate the poetry of the Italian poet Lorenzo Calogero—a book published as An Orchid Shining in the Hand: Selected Poems 1932-1960 (2015). The Fellowship included a five-week stay at the American Academy in Rome between December 2013 and January 2014. In January 2014, he was awarded, in Reggio Calabria, Italy, the Italian "Premio Anassilaos" for this same project. In 2015, his translation of José-Flore Tappy's poetry, Sheds: Collected Poems 1983-2013, was a finalist for the National Translation Award in Poetry from the American Literary Translators Association. His most recent translations are three books by Franca Mancinelli, The Little Book of Passage (The Bitter Oleander Press, 2018), At an Hour's Sleep from Here (The Bitter Oleander Press, 2019) and The Butterfly Cemetery (The Bitter Oleander Press, 2022), José-Flore Tappy's Trás-os-Montes (The MadHat Press, 2021), as well as Philippe Jaccottet's A Calm Fire and other Travel Writings (Seagull Books, 2019), Patches of Sunlight, or of Shadow (Seagull Books, 2020), Ponge, Pastures, Prairies (Black Square Editions, 2020), and La Clarté Notre-Dame & The Last Book of the Madrigals (Seagull Books, 2022).